Vuoden 2022 Hyvä Työ! -palkinto Tilastokeskuksen työolotutkimukselle
Työelämän tutkimusyhdistys on myöntänyt tämän vuoden Hyvä Työ! -palkinnon Tilastokeskuksen työolotutkimukselle.
Työolotutkimus on kansainvälisesti vertaillen ainutlaatuinen ja korkeatasoinen aineistokokonaisuus, jota on kerätty vuodesta 1977. Tutkimuksen teemat ovat seuranneet aikaansa – tai oikeastaan olleet usein aikaansa edellä. Alusta alkaen työoloja tarkasteltiin laajemmin kuin vain fyysisenä työympäristönä. Työ palvelusektorilla ja naisten työt tulivat mukaan tarkasteluun. Tietotekniikan käyttöä työssä selvitettiin jo vuoden 1984 tutkimuksessa, ennen kuin tietotekniikkaa oli juuri edes otettu käyttöön työelämässä. Viimeksi aineistoa päivitettiin keväällä 2021 toteutetulla koronakyselyllä.
Tilastokeskuksen Työolotutkimus tuottaa monipuolista tietoa palkansaajien työoloista. Aineisto on aktiivisessa ja monitieteisessä tutkimuskäytössä ja muodostaa kattavan pohjan suomalaiselle työelämätutkimukselle.
Tilastokeskuksen Työolotutkimus tarjoaa ainutlaatuisen mahdollisuuden vertailla ja kartoittaa erilaisia työelämän muutoksia ja murroksia. Työelämän tutkimusyhdistys haluaa korostaa tämän tutkimuksen merkitystä suomalaiselle työelämätutkimukselle jatkossakin ja erityisesti kiittää Anna-Maija Lehtoa, Anna Pärnästä ja Hanna Sutelaa heidän keskeisestä työstään tutkimuksen eteen sekä kaikkia muita tutkijoita ja muita toimijoita, jotka ovat vuosien varrella mahdollistaneet tämän poikkeuksellisen pitkän kyselyaineiston olemassaolon.
Hyvä Työ! -palkinto jaettiin 14. kerran. 16.9.2022 Tampereella Työelämän Tutkimuspäivät / Industrial Relations in Europe Conference -konferenssissa. Palkinto myönnetään erityisen vaikuttavasta työelämän tutkimus- tai kehittämisteosta tai työelämän tutkimuksen ja yhteiskunnallisen vaikuttavuuden edistämisestä. Palkinnon saajan valitsi Työelämän tutkimusyhdistyksen hallitus.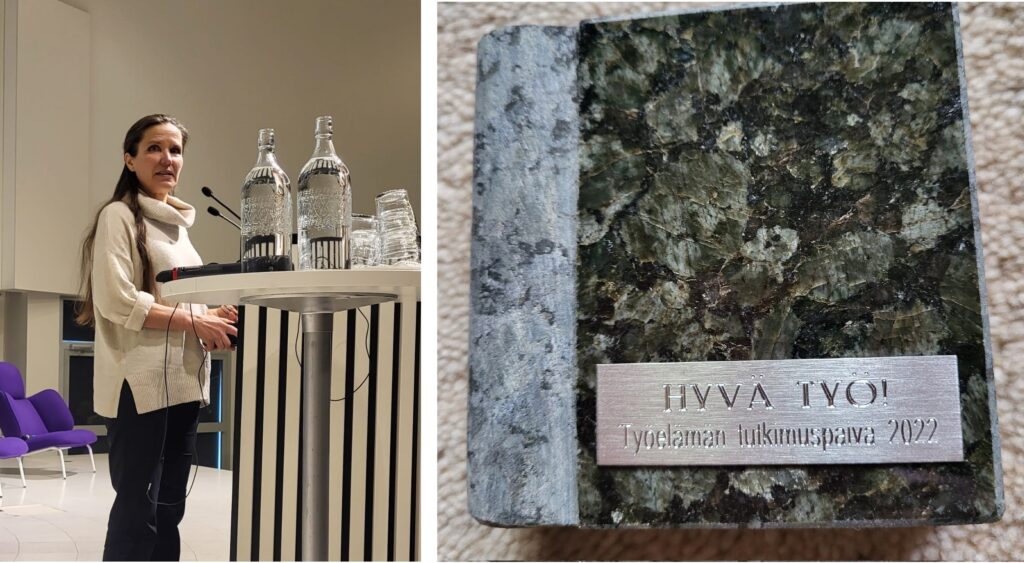 Hanna Sutelan kiitospuhe 16.9.2022.
On behalf of Statistics Finland, my colleagues and myself I want to thank you warmly for this award.
Quality of work life surveys have mapped changes in the Finnish work life for over 40 years now. The work life is in constant change, but it is difficult to grasp them when you are in the middle of this change yourself.  
This is why we need statistics and time series.
Quality of Work Life Survey trends make visible the positive results of the conscious development work of working conditions which has taken place in Finland for decades. It shows the strengths of Finnish work life, which is of top level in the world.
The survey also serves as a tool to recognise problems of today. If you want to make things better, the first step is to pinpoint the current problems.
We need comprehensive information on work life also because we all live in our own bubbles. Characteristics of our work and the work of people around us may not be day-to-day reality for many others. Statistics help us to proportion things.
QWLS provides facts for the public debate and irreplaceable data for Finnish work life researchers. In addition, it has an important role in work life policy and decision making. All in all, these surveys give us material to feed into the debate on how the Finnish work life is at the moment and how we would like it to be.
So, how come QWLS has succeeded to establish its place as a reliable and comprehensive source of information?
Statistics Finland – with the vision to produce realiable and high-quality statistics for the benefit of society – has provided a good framework to develop and carry out this series of surveys. Persons realising this survey series over the years have been committed and interested also at the personal level to develop survey methods on measuring working conditions. Every survey wave, new emerging themes in work life have been taken on board: sound background work has been done and qualitative methods have been used in trying to understand the new phenomenona and operationalize ways to measure them.
QWLS concentrates on employees' own experiences. In Finland, already in the 1970's it was thought that it is not enough to use only such economic indicators as employment rate or GDP if we want to understand and improve conditions in the labour market and the whole society. We also need information on how people experience the quality of their work life. Finland was ahead of time in this sense, I would say. Internationally, this way of thinking has gained ground only in the past 10 or 20 years. There are no such long traditions on measuring quality of work life elsewhere, which would still be alive and kicking.
This award comes timely, since we just are about preparing for the ninth Quality of Work Life Survey in 2023. Ecological sustainability of work life, proceeding of digitalization and robotization, demand for new skills, brain ergonomics… the need for information has not decreased.
There is no legislation or EU regulations to request conducting QWLS. We have to ground the rationale for the survey for every single wave again and again. In this sense, recognition of the significance of this survey, like the award today, are of utmost importance. Without the cross-administrative co-operation and financial support from different ministries, pension institutes, funds and other stakeholders this series of surveys might have been broken already a long time ago. We are grateful to have support from these partners.
I also want to emphasise the co-operation we always had also in the design of the contents and survey questionnaire in form of an expert group and other discussions. In a small country like Finland, it is particularly important to combine forces – and knowhow in work life research is not lacking in Finland!
Thus, I want to thank all those who have participated in the design of these surveys over the years for the fruitful co-operation and I am already very much looking forward for the next round!
Thank you!
Lisätietoja: Puheenjohtaja Hertta Vuorenmaa, 040-1495939 / hertta.vuorenmaa@aalto.fi